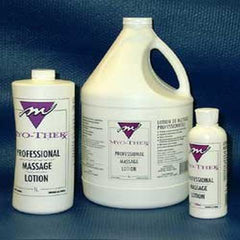 Myo-Ther Lotions
$ 26.95 - $ 62.95
This creamy white lotion has a luxurious texture and is viscous at room temperature.
Myo-ther applies smoothly to the skin, clarifying and spreading evenly with body heat. The formulation contains millions of tiny droplets that remain on the surface of the skin for long lasting lubrication, eliminating the need for constant re-applications.
It is odourless and can be used as a base, allowing you to customize the lotion to your own requirements with essential oils.
Hypo-Allergenic: The lotion is hypo-allergenic for patients and practitioners with sensitive skin and has a neutral pH.